Southern Expedition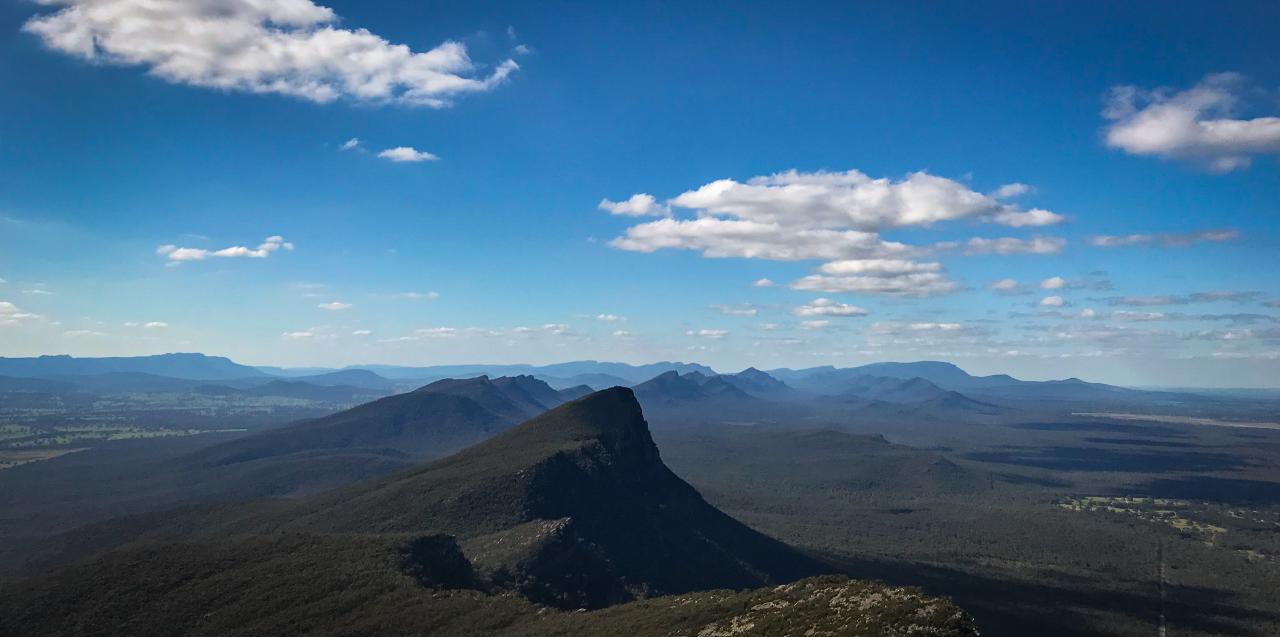 Duration: 4 Days (approx.)
Location: HALLS GAP, VIC
The Southern Expedition is a 5-day, 4-night journey that will take you from Jimmy Creek Trailhead at the end of the Central Expedition and continue the journey southward all the way to the final steps into Dunkeld. Our first 2 hiker camps in this expedition are 'backcountry' campsites, meaning they are much more inaccessible and do not have an enclosed communal shelter for evenings. While we will have lightweight portable shelter, our experience will be largely dictated by the weather conditions. The last 2 hiker camps we'll stay at are 2 of the best and most well equipped on the GPT.
Our journey will begin in Halls Gap at our Hiker Hub, after briefings and a gear check we will depart in our private transport for a short drive to Jimmy Creek. Over the first 2 days of walking, we will traverse the previously untracked southernmost reaches of the Mount William Range. As the range peters out it gives way to new types of vegetation, wetlands and views out to the adjoining farmlands.
After our second stay in a Backcountry Hiker Camp, we will cross the Grampians Tourist Rd and effectively jump from the end of the Mount William Range across to the Serra Range - the longest, steepest and most aggressive range that makes up Gariwerd. We will wind our way southward gaining high ground as we go to summit the 3 southernmost significant peaks Signal Peak, Mount Abrupt and Mount Sturgeon. Along the way, we will stay in 2 well-supported hiker camps. Our final steps will take us all the way to the finish of the trail in Dunkeld.

On this expedition, you will start at Jimmy Creek Trailhead where our Central Expedition ends, and cover every step of the Southern Stage of the Grampians Peaks Trail taking the final steps of the GPT into Dunkeld. If your goal is to walk the entire length of the Grampians Peaks Trail, whether it be in one go or over a period of time, this is the third and last trip for you. If you want to hike the stages in order, first take on the Northern Expedition, then the Central Expedition, then, come back and finish with this Southern Expedition and you will have covered every step - no missing links!
Itinerary summary
Day 1: Hike the second half of C5 - Jimmy Creek trailhead to Yarram
Day 2: Hike S1 - Yarram to Wannon
Day 3: Hike S2 - Wannon to Djarji-djawara
Day 4: HIke S3 - Djarji-djawara to Mud-Dadjug
Day 5: Hike S4 - Mud-Dadjug to finish in Dunkeld. Transfer back to Halls Gap for a clean up at our Hiker HUB before a celebratory drink at the local brewery.



Day by day
Day 1 - C5 - 6km km - ⬆438m - ⬇190m
Our journey will begin in Halls Gap at our Hiker Hub, after briefings and a gear check we will depart in our private transport for a short drive to Jimmy Creek. We will begin gently as we slowly gain elevation and wind our way up to gain the high ground that offers incredible views to the east of reclaimed farmland. Passing through previously untracked areas of the lower Mt William range, it offers up some of the most rugged ridgeline rock walking and views of the incredible Serra Range to the west. This section is fantastic for late winter and spring wildflowers. Watch for the red "spider flowers" of Flame Grevillia, typically in bloom between April and November. To the east is the area's farmland and scattered lakes and wetlands – important habitat to wildlife, including threatened species such as Australia's largest flying bird, the Brolga. This ridge walking leads us over the day to Yarram Hiker Camp to rest up for the night.
Day 2 - S1 - 11km - ⬆313m - ⬇588m
Today we descend and climb the last ups and downs of the Mount William Range, and then enjoy a long flat(ish) walk passing through ancient old-growth forests and lower swampland plains with stands of native Oyster Bay Pines (Callitris rhomboidea) along the way. We will take in views of farmland to the east and south-east and the countless swamps, lakes and wetlands as well as the dramatic Serra Range to the west. We will climb the last little blips of the Mount William Range and settle into Wannon Hiker Camp for the night in a reclaimed farmland gully.
Day 3 - S2 - 15.6km - ⬆550m - ⬇427m
We will begin with incredible open grassland and a combination of gentle trail and steel boardwalks, through large areas of Xanthorrhoea australis, swampy river flats and open heathy forest. Much of the landscape here feels very old worldly - almost Jurrasic. The thick understory provides important habitat for threatened small mammals such as the Long-nosed Potoroo, Southern Brown Bandicoot and Heath Mouse. Shortly after passing the Griffin Fireline we will cross back over the Grampians Tourist Road and climb through the incredible forest back onto the Serra Range. Saddles of old-growth forest, sheer eastern faces and expansive views to the western Victoria Range will bring us to Djardji-djawara, our second last hiker camp on a small rocky knoll.
Day 4 - S3 - 8km - ⬆583m - ⬇481m
From Djardji-djawara we cross Cassidy Gap and begin up a short but spicy trail up Signal Peak. With varied terrain from steps to boulders, this climb should not be underestimated. Signal Peak is one of the great peaks of the Serra Range that prior to the construction of the GPT never had a trail leading to the top, yet, from its top provides one of the most spectacular vantage points to view Mount Abrupt in the early morning light. Our journey continues south, dropping down from Signal Peak to a long saddle covered in an incredible forest before gradually climbing, and then more abruptly up the aptly named peak. Walking through the forested areas and exposed ridgelines of the southern Serra Range and reflecting on the vast difference in vegetation that we have experienced on this walk really attests to the distance we have travelled. We'll visit the incredible summit of Mount Abrupt before descending to Mad-dadjug Hiker Camp on its southern shoulder.
Day 5 - S4 - 14km - ⬆501m - ⬇770m
For our last morning on the trail, we will enjoy a quick bite and a pot of coffee before taking off pre-dawn to descend carefully and steeply, from Mt Abrupt, passing a reservoir and then climbing over Bainnggug (the Piccaninny) where we hope to catch the sunrise and breakfast. When we're ready to continue, we will cross Victoria Valley Road and begin the final climb of the GPT over Mt Sturgeon (Wurgarri). Mt Sturgeon towers over our destination - Dunkeld - as well as offers stunning views in all directions. The landscape reveals stories of country. Looking northward we can see the sedimentary sandstone of Gariwerd and draw a line with our finger along our path going back in time over the last 5 days. To the south, basalt lava flows over volcanic plains. Volcanoes nearby at Budj Bim National Park and Mt Gambier are only 5000 years old, while the oldest dated Aboriginal rock shelter in Gariwerd is 22,000 years old. We will complete our journey by steeply descending into farmland below and wandering through open old-growth Red Gum woodland to arrive at Dunkeld. After a celebratory lunch, we will load onto our private transport and transfer back to Halls Gap.
Who is this program for?
Our 'Expedition' programs are designed for those who love to hike and explore (no matter your level of experience) and prefer the idea of a continuous journey - multiple days, start to finish without leaving the trail. While we provide as much support and comfort as we can, we'll be camping in lightweight hiking tents, sleeping on your inflatable hiking mattress and staying in campsites equipped with composting tank toilets (but no showers!). We take care of all the group equipment (tents, cooking equipment, food etc) but you will need to be capable of carrying your personal clothing, sleeping bag and mattress, approximately 8-12 kgs.
If you would prefer to hike the GPT all in one go without leaving the trail, check out our GPT E2E Expedition
If you like the idea of a shorter multi-day expedition but prefer the idea of a real bed over a tent, check out our Northern Huts Walks!

If you like creature comforts like a hot shower at the end of each day and walking pack free, check out our Grampians Luxe programs!
Departures and private groups

Do you have a group? Don't see a departure date that suits? Contact us to discuss a custom or private departure.
Inclusions:
Qualified and experienced local guides.

4 nights camping in supported hiker camps.

Fresh and healthy camp cooked meals.

All meals on the trail.

Any required transfers.

Group safety equipment such as a first aid kit and satellite phone.
Exclusions:
Personal clothing and equipment (including backpack, sleeping bag and mattress).

Personal medical and evacuation/ambulance insurance - highly recommended.

Meals in towns.

Accommodation before and after the hike.