Central Expedition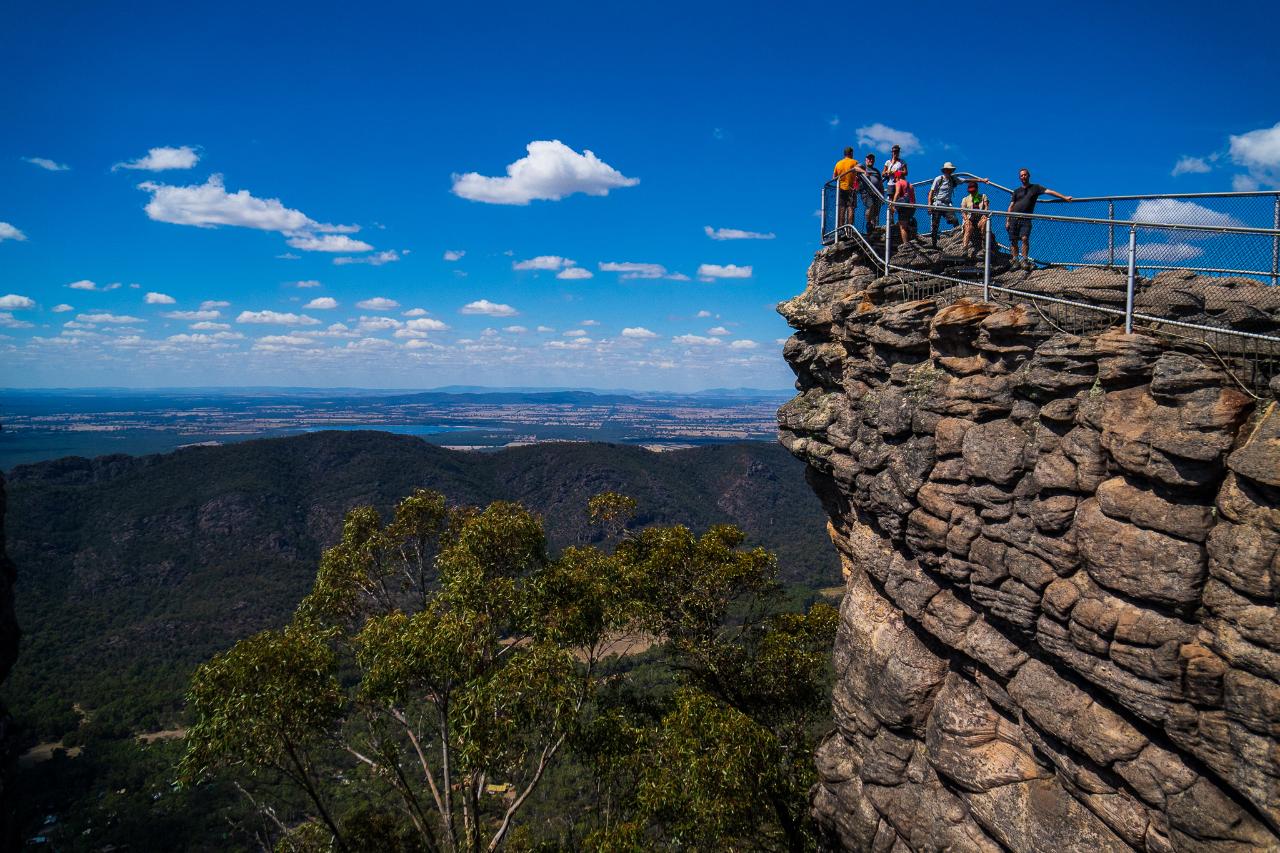 Duration: 4 Days (approx.)
Location: HALLS GAP, VIC
The Central Expedition is a 5-day, 4-night journey that will tackle some of the most remote, exposed and inaccessible parts of the GPT. 3 out of 4 of the hiker camps in the Central Expedition are 'backcountry' campsites, meaning they are much more inaccessible and do not have an enclosed communal shelter for evenings. While we will have lightweight portable shelter, our experience will be largely dictated by the weather conditions.
Our journey will begin in Halls Gap at our Hiker Hub, after briefings and a gear check we will walk through town to join the trail. We'll start gently with some of the most well-trodden trails of Gariwerd and visit some of the most iconic sites in the region, Venus Baths, Grand Canyon and the Pinnacle - and that's all before lunch! Our first nights camp will be at a stunning campsite that eases us into things with all the comforts of an enclosed communal shelter for the evening.
From there, we will hike southward and encounter less traffic the further we go. We'll tackle the longest single ascent in the whole GPT, summit the highest peak in all of Gariwerd and cross the exposed, high elevation Major Mitchel Plateau. Each night after the first, we'll camp in backcountry hiker camps, rest, enjoy a freshly cooked trail meal and sleep under a blanket of stars. No matter your level of hiking experience, our passionate local team will guide and support you through this journey to explore their backyard.

On this expedition, you will cover every step of the Central Stage of the Grampians Peaks Trail and end at the Jimmy Creek Trailhead where we begin the Southern Expedition. If your goal is to walk the entire length of the Grampians Peaks Trail, whether it be in one go or over a period of time, this is the Second trip for you. If you want to hike the stages in order, first take on the Northern Expedition, then after you complete this Central Expedition, you can come back and finish with the Southern Expedition and you will have covered every step - no missing links!
Itinerary summary
Day 1: Briefing at our Hiker HUB in Halls Gap, then walk out of town on C1 to Stoney Creek Hiker Camp.
Day 2: Hike C2 - Stoney Creek to Barri Yalug.
Day 3: Hike C3 - Barri Yalug to Duwul.
Day 4: Hike C4 - Duwal to Durd Durd.
Day 5: Hike the first half of C5 to Jimmy Creek Trailhead. Short transfer back to Halls Gap for a clean up at our Hiker HUB before a celebratory drink at the local brewery.


Day by day
Day 1 - C1 - 12.2 km - ⬆693m - ⬇229m
We'll meet at our GPT Hiker Hub in the Halls Gap Visitors Info Centre for a briefing and a gear check. Once we're set to go, we'll depart Halls Gap and begin winding our way up the Wonderland Range. We will pass iconic sites such as Venus Baths, Grand Canyon, Silent Street and the Pinnacle, all before lunch! After a bit of traversing some high ground, we'll pop over and descend to the saddle between the Wonderland Range and Mount Rosea and then gently climb Mount Rosea's northern shoulder to find the stunning Stoney Creek Hiker Camp.
Day 2 - C2 - 13 km - ⬆422m - ⬇710m
This morning starts with an exciting climb over some really interesting terrain, passing the Gate of the East Wind we will reach the summit of Mount Rosea at 1009 m above sea level. After a long descent into the valley, we leave the Serra Range by crossing Grampians Tourist Road and begin our ascent towards Mount William. Luckily, most of that is saved for tomorrow as it's only another 1.2km to Barri Yalug, our first 'backcountry hiker camp' - more remote hiker camps with limited shelter. The next 3 nights of our expedition are in backcountry camps and will be a little more exposed to the elements. It's the necessary cost to pay to experience some of the most remote and wild parts of the Gariwerd landscape.
Day 3 - C3 - 13.2 km - ⬆806m - ⬇316m
A short steep descent out of camp will lead us to cross Barney Creek at 320 m above sea level and offer a short flat stretch to get our minds ready for the longest continual climb anywhere along the GPT. From Barney Creek it is more or less all uphill until Redman Bluff at 1017 m. This long gradual climb steers us from bushland to large open rock areas. Along the way, we'll see parts of an old aqueduct system that used to feed water to nearby towns before the construction of Lake Bellfield. Passing some of the 'Seven Dials' we'll continue on to finally reach Redman Bluff and take a well-earned rest before descending to a saddle and then a final gentle climb to Duwul Hiker Camp.
Day 4 - C4 - 14.5 km - ⬆679m - ⬇720m
Today is one of the most exposed sections of the GPT with the most amount of time spent at the highest elevations. We'll start by climbing up to Mt William - the highest peak in all of Gariwerd at 1167m - then head south and down to Boundary Gap at 878m, separating Mt William from the Major Mitchell Plateau. This descent and ascent contain some of the most challenging terrains on the whole GPT. Once we gain the plateau we will undulate across rocks and steel mesh walkway, passing First Wannon Creek and reaching the highest point on the plateau, Durd Durd - equal height to Mount William at 1167 m - marked by a rock cairn. We will continue south to Banksia Hill at 1103m, across the banksia ridgeline where the trail hops across large boulders before descending to open grassy woodland, reminiscent of an alpine meadow. While Durd Durd Hiker Camp is much more sheltered than most of the day's walk, it still sits at 855 m above sea level and along with Duwul Hiker Camp are the 2 highest camps and most likely to receive snow in winter and even spring.
Day 5 - C5 - 12km km - ⬆456m - ⬇685m
A new landscape unfolds as we descend from the highest parts of the Mount William Range and continue to traverse southward, down into sheltered woodland valleys. After a long descent we will reach Jimmy Creek Trailhead where our walking will end for this journey. We'll hop aboard our private transport for a short drive back into Halls Gap to clean up and visit the local brewery for a celebratory drink.
Who is this program for?
Our 'Expedition' programs are designed for those who love to hike and explore (no matter your level of experience) and prefer the idea of a continuous journey - multiple days, start to finish without leaving the trail. While we provide as much support and comfort as we can, we'll be camping in lightweight hiking tents, sleeping on your inflatable hiking mattress and staying in campsites equipped with composting tank toilets (but no showers!). We take care of all the group equipment (tents, cooking equipment, food etc) but you will need to be capable of carrying your personal clothing, sleeping bag and mattress, approximately 8-12 kgs.
If you would prefer to hike the GPT all in one go without leaving the trail, check out our GPT E2E Expedition
If you like the idea of a shorter multi-day expedition but prefer the idea of a real bed over a tent, check out our Northern Huts Walks!

If you like creature comforts like a hot shower at the end of each day and walking pack free, check out our Grampians Luxe programs!
Departures and private groups

Do you have a group? Don't see a departure date that suits? Contact us to discuss a custom or private departure.
Inclusions:
Qualified and experienced local guides.

4 nights camping in supported hiker camps.

Fresh and healthy camp cooked meals.

All meals on the trail.

Any required transfers.

Group safety equipment such as a first aid kit and satellite phone.
Exclusions:
Personal clothing and equipment (including backpack, sleeping bag and mattress).

Personal medical and evacuation/ambulance insurance - highly recommended.

Meals in towns.

Accommodation before and after the hike.