Northern Expedition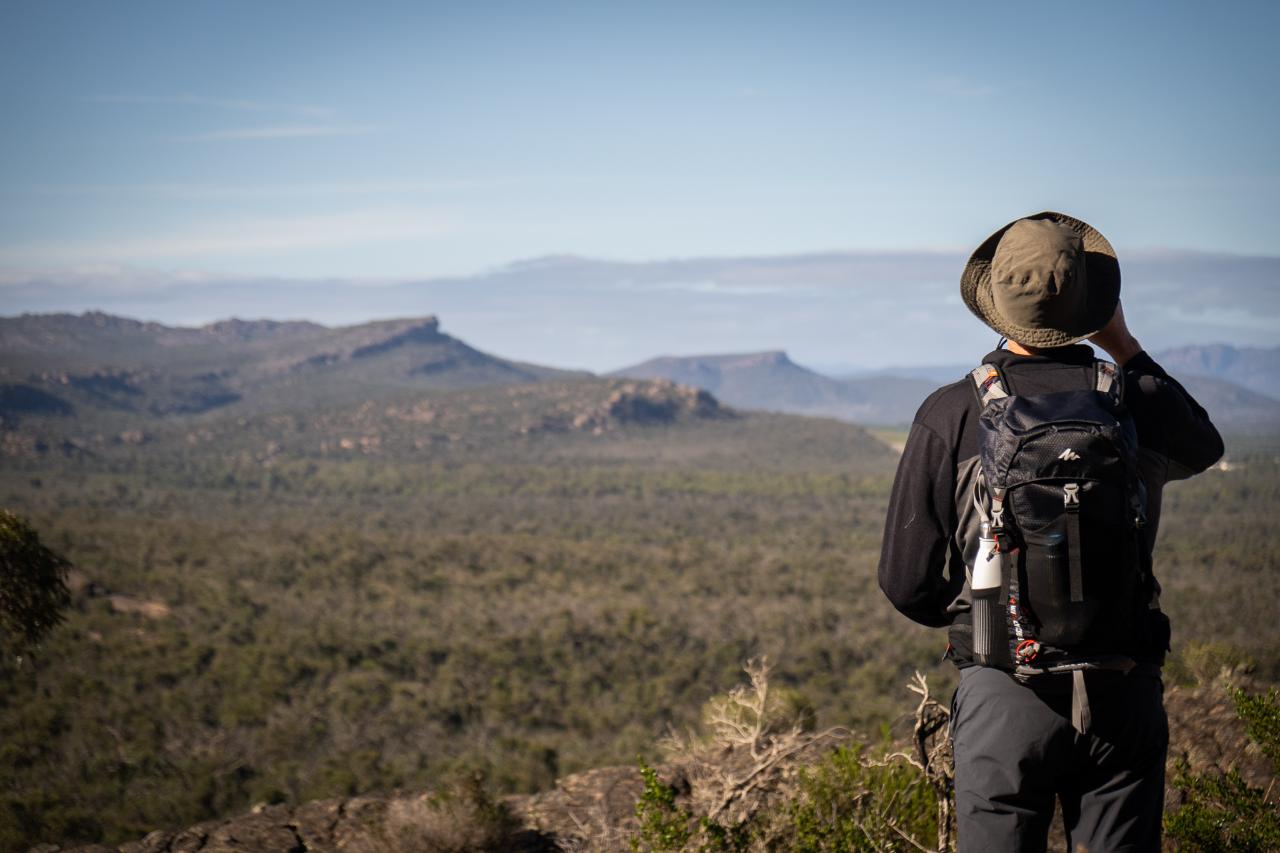 Duration: 4 Days (approx.)
Location: HALLS GAP, VIC
The Northern Expedition is a 4-day, 3-night journey that will immerse you in the Northern Grampians – by far, the most dramatic part of the Gariwerd Landscape. Its dry, sandy gullies and valley floors are dominated by huge rocky outcrops and some of the biggest sheer sandstone cliffs found anywhere in the Grampians.
We'll begin our journey at the northernmost tip of the Grampians near Mount Zero and over the course of 4 days, we will hike southward all the way to Halls Gap. Each night we'll camp in our supported hiker camps, rest, enjoy a freshly cooked trail meal and sleep under a blanket of stars. No matter your level of hiking experience, our passionate local team will guide and support you through this journey to explore their backyard.
On this expedition, you will cover every step of the Northern Stage of the Grampians Peaks Trail and end in Halls Gap at the beginning of the Central Stage. If your goal is to walk the entire length of the Grampians Peaks Trail, whether it be in one go or over a period of time, this is the first trip for you. After you complete this, you can then join the Central and then Southern Expeditions and you will have covered every step - no missing links!
Itinerary summary
Day 1: Briefing at our Hiker HUB in Halls Gap, transfer to the trailhead and walk N1 - Mount Zero to Barigar hiker camp.
Day 2: Hike N2 - Barigar to Gar.
Day 3: Hike N3 - Gar to Werdug
Day 4: Hike N4 - Werdug to Halls Gap. Clean up at our Hiker HUB before a celebratory drink at the local brewery.


Day by day
Day 1 - 12.9km - ⬆440m - ⬇460m
Meet your guide and the expedition team at the Grampians Peaks Walking Co Hiker Hub in Halls Gap for a briefing and gear check before a transfer to the beginning of the GPT at Mount Zero picnic area. The heart rate will rise quickly as we ascend 'Flat Rock' and then again when we get to the top and get our first world-class viewpoint - just 10 minutes in!
We'll descend and navigate our way through the Stapylton Amphitheatre before skirting our way around and up Mount Stapylton itself. For the footsure and brave, there is a short scramble to the summit to gain 360-degree views and a sneak peek of the next day's walk in the distance.
After a fresh trail lunch, we'll head southwards along the mostly high ground before descending into a valley and reaching Barigar Hiker Camp. After settling in we can take a short side trip to visit the camp's namesake Barigar Falls.
Day 2 - 12.9km - ⬆615m - ⬇113m
We'll begin our day with a hearty breakfast and then depart camp. Our first steps take us along the base of the Rock Wall, an impressive several km long escarpment hidden away in a valley. As the cliff line reduces, we begin to ascend its ridge to cross over into Roses Gap.
As we begin to ascend the lower slopes of Gar (Mount Difficult) we will find and begin to follow a small, unsuspecting watercourse - seasonal and rainfall dependent. Over the next few km, we will witness this watercourse cascading over a series of drops each one more spectacular than the last.
After we gain the top of the last waterfall, we'll head towards the 'Pacific Ocean Wall', a cliff 'as big as the pacific ocean', ascend its flank via a superbly built stone stairway and continue climbing up to Briggs Bluff. With most of the ascent completed, from here we can traverse our way along the high ground before arriving at Gar Hiker Camp and its breathtaking views.
Day 3 - 15 km - ⬆521m - ⬇462m

An early start this morning as we head up to the summit of Gar for a sunrise like no other. We'll then return to camp for breakfast and then depart on the day's journey.
We will sharply descend the eastern slopes of Gar, cross the northern end of the Werdug (Wartook) Basin and gain the ridge of the eastern flank of the Mount Difficult massif. Continuing south along this high ground we will eventually reach Werdug Hiker Camp with stunning views overlooking Lake Wartook and a clear line of sight all the way back to the top of Gar where we stood that morning.
Day 4 - 13 km - ⬆33m - ⬇587m
Our last day on the trail (for this expedition!) will continue along the eastern flank of Mount Difficult and slowly tip over and descend towards the town of Halls Gap. For one last hoorah we'll head out to the end of Chautauqua Peak before finishing our descent all the way into Halls Gap. We'll head back to the Grampians Peaks Walking Co Hiker HUB where we can shower, collect our gear and celebrate with lunch and a local craft beer at the conveniently adjoining brewery.
Who is this program for?
Our 'Expedition' programs are designed for those who love to hike and explore (no matter your level of experience) and prefer the idea of a continuous journey - multiple days, start to finish without leaving the trail. While we provide as much support and comfort as we can, we'll be camping in lightweight hiking tents, sleeping on your inflatable hiking mattress and staying in campsites equipped with composting tank toilets (but no showers!). We take care of all the group equipment (tents, cooking equipment, food etc) but you will need to be capable of carrying your personal clothing, sleeping bag and mattress, approximately 8-12 kgs.
If you like creature comforts like a hot shower at the end of each day and walking pack free - check out our Grampians Luxe programs!
Departures and private groups

Do you have a group? Don't see a departure date that suits? Contact us to discuss a custom or private departure.

Inclusions:
Qualified and experienced local guides.

3 nights camping in supported hiker camps.

Fresh and healthy camp cooked meals.

All meals on the trail.

Any required transfers.

Group safety equipment such as a first aid kit and satellite phone.
Exclusions:
Personal clothing and equipment (including backpack, sleeping bag and mattress).

Personal medical and evacuation/ambulance insurance - highly recommended.

Meals in towns.

Accommodation before and after the hike.