Northern Luxe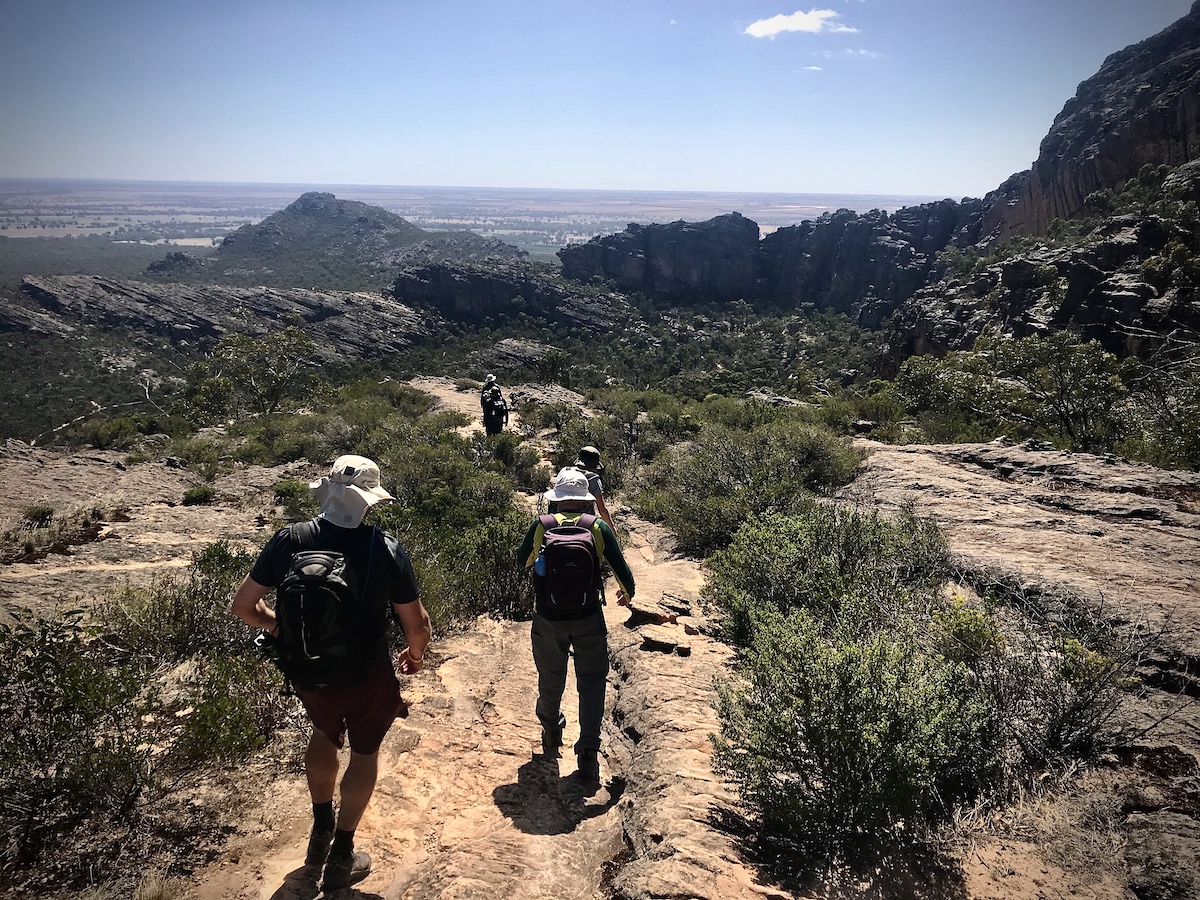 Duration: 4 Days (approx.)
Location: HALLS GAP, VIC
The northern stage of the Grampians Peaks Trail is wild, rugged and absolutely spectacular. In this unique experience, we will explore the best parts of the northern end of Gariwerd, we will summit peaks, get splashed by waterfalls, experience 420 million years of geology and 40,000 years of human history. While our days will be adventurous, our evenings will be spent in comfort in our exclusive, off-the-grid eco-cabin surrounded by the national park. Delicious, freshly prepared meals with a focus on local produce, complete with a selection of local wines. A complete Grampians experience, without sacrificing comfort. Perfect.
Our tour begins at Mount Zero and continues through Mount Stapylton, Bariga Falls, Brigg's Bluff, Wimmera Plains, and Beehive Falls, to name just a few iconic landmarks. On the way, we'll experience ancient indigenous rock art, scramble to incredible 360-degree views, and feel dwarfed by the scale of the landscape.
Each day, transfer back to your private, off-grid eco-lodge and, after a hot shower, enjoy a glass of local wine and sample some local Grampians produce before dining on a banquet-style home-cooked feast.​
Itinerary Summary
Day 1: Arrive at our eco-lodge at your leisure. Light dinner available before briefing if required.
Day 2: A short transfer, then we begin our walk from Mount Zero along the GPT back to our eco-lodge for the evening.
Day 3: From our eco-lodge, we'll continue along the GPT. A short transfer is available if required back to the lodge at day's end.
Day 4: Visit an indigenous art site before a tour of a local olive grove. Refreshments at the olive grove before heading back to the eco-lodge for departure.

Day by day
Day 1
Enjoy a welcome drink on arrival to our eco-lodge - there will be a light dinner available for those that arrive in time. Once the team has assembled, we will hold a briefing for the next few days. The evening is then yours to relax and get to know your new friends.
Day 2 - 12.5 km - ⬆450m - ⬇490m
A short transfer will take us to the very northern end of the Grampians Peaks Trail where we'll begin our walk. From Mount Zero we will pass through the Stapleton Amphitheatre and be dwarfed by one of Victoria's tallest and steepest rock climbing walls. We'll exit the amphitheatre and have the option for a very scrambly ascent to the summit of Mount Staypleton. It's quite a scramble with some exposure to heights, so this side trip may not be for everyone. On return, we'll continue southward, until we descend through a gorge and visit Barigar Falls before a final stretch to walk back into our eco-lodge for the evening.
Day 3 - 16 km - ⬆600m - ⬇600m
Walking out of our eco-lodge we'll rejoin the Grampians Peaks Trail and continue our journey. More dramatic scenery today as we're dwarfed again by giant sheer cliffs and explore newly rediscovered waterfalls. The high point of today's walk is an optional side trip up to Briggs Bluff - offering an epic 360-degree view of the Northern Grampians and the Wimmera Plains. We'll then backtrack slightly and visit Beehive Falls before a short transfer back to the eco-lodge.
Day 4
For our last day, we dial the pace back. We'll take a short drive to visit an indigenous art site and learn a little about the cultural landscape we have been walking through, then head to a local olive grove for a tour and learn about some of the world-class produce that we've been tasting during our stay. Our tour will conclude with a light platter style lunch at the groves cafe. Once we have indulged, we'll transfer back to our eco-lodge for a final debrief and departure around 1-2 pm
Who is this program for?
Our Luxe programs are designed for those who love to hike and explore and don't mind putting the miles in during the day and then prefer the comforts of returning to boutique accommodation for the evening. Hot showers, crisp linen, outstanding catering – all the adventure with a little more "luxe". Each day, you'll only need to carry a few small items for the day such as water, a snack, and a rain jacket.
If you would prefer to camp out in our hiker camps, or if you're more conscious of the budget than comfort, check out our Expeditions.
Departures and private groups

Do you have a group? Don't see a departure date that suits? Contact us to discuss a custom or private departure.
Inclusions
All required transport.
3 nights accommodation in our private, off-grid eco-lodge.
All meals: healthy track snacks, local fare, and fresh in-house dinners, complemented by local wines & produce.
Safety equipment, including first aid kits and satellite phones.
Small groups – a maximum of 10 walkers.
The company of experienced, award-winning local guides.
Exclusions
Travel Insurance - highly recommended
Personal clothing and walking equipment