Central Luxe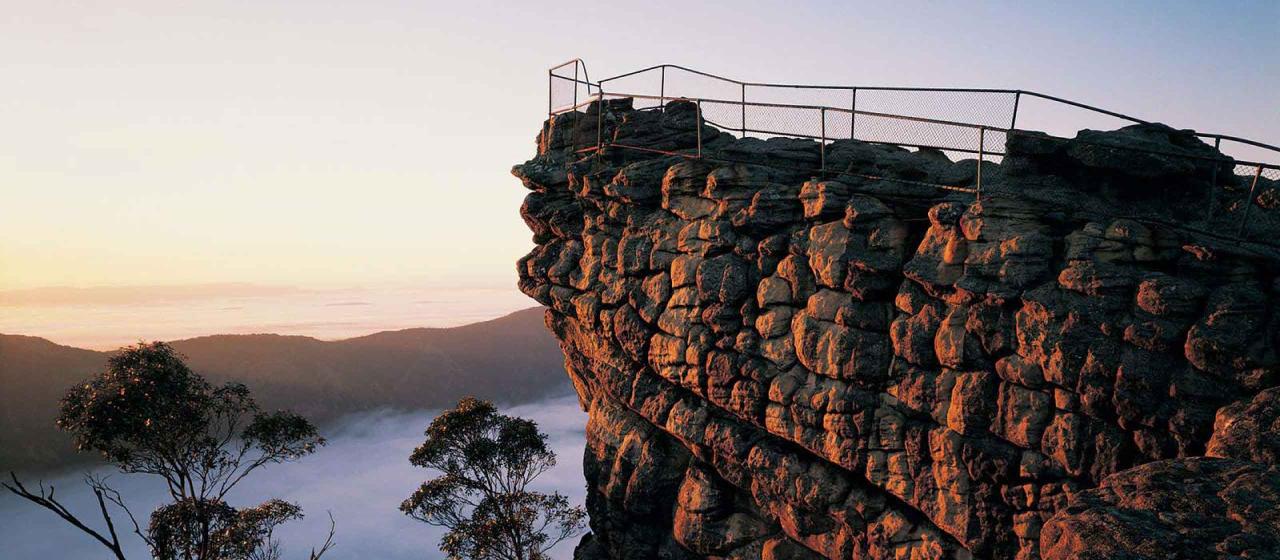 Duration: 4 Days (approx.)
Location: HALLS GAP, VIC
The Central Grampians is the most iconic stage of the Grampians Peaks Trail. We'll journey over rugged and dramatic landscapes to visit some of the most recognised features in the national park. Venus Baths, the Grand Canyon and of course the Pinnacle - and that's just the first day!
The beating heart of the central Grampians is the small town of Halls Gap. This bustling little hub also happens to be the starting point of the central stage of the GPT and in recognition of that, our journey will not only explore the mountains and trails but the culture and community that reside amongst them. This little valley is full of produce and people who are passionate about hospitality and we'll get to meet some of the stars and experience what they have to offer
At the end of each day's walk, we will be transferred back to our boutique private accommodation for a hot shower, a glass of local wine and to sample some local Grampians produce before heading into Halls Gap for an outstanding dining experience.
Itinerary Summary
Day 1: Arrive at our private accommodation at your leisure. Light dinner available before briefing if required.
Day 2: A short transfer to Halls Gap to begin our walk over the Wonderland Range to Mt Rosea Carpark. Visit a local winery then transfer back to our accommodation to freshen up before refreshments and heading into Halls Gap for dinner.
Day 3: Transfer back to the trail, spend the day hiking up and over Mt Rosea. Visit another local winery before heading back to our accommodation for refreshments; then to Halls Gap for dinner.
Day 4: Visit Mackenzie Falls, a local art studio, and finish with a produce platter at a local olive grove before departing.

Day by day
Day 1
Enjoy a welcome drink on arrival to our boutique accommodation there will be a light dinner available for those that arrive in time. Once the team has assembled, we will hold a briefing for the next few days. The evening is then yours to relax and get to know your new friends.
Day 2 - 8.2 km - ⬆530m - ⬇165m
A short transfer into Halls Gap and to the start of our walking journey. We'll start by walking through the native botanical gardens that are managed by a passionate community group and then continue through to Venus Baths. From here we'll begin our climb upwards, enjoy spectacular views of the renowned 'Elephants Hide' and walk through the dramatic Grand Canyon. The Cool Chamber and Silent Street bring us to the famous Pinnacle where our nerves will be tested - even from behind a safety barrier - before continuing along the ridge of the Wonderland Range to the Lakeview Lookout for a light lunch. We'll then continue another gentle 1.5kms down past the Bugiga Hikers Camp to the end of our trail for the day. With plenty of time left for the afternoon, we'll visit a local winery to sample some of the regions great produce before washing up and refreshments back at our home away from home. When the dinner bell rings we'll head into Halls Gap and dine at one of the fantastic venues on offer.
Day 3 - 9.5 km - ⬆410m - ⬇710m
Today we pick up right where we left off after a short transfer back to the trail. We wind our way up and traverse along the top of one of the tallest climbing cliffs in the central Grampians. Mount Rosea is high, exposed and provides fantastic walking with inspiring views in all directions. We'll continue southward and descend back down to the valley floor below. From here we'll be picked up and transferred to another world-class local winery to celebrate our achievements and taste a little more of the region before dinner in another great Halls Gap venue.
Day 4
Today brings a slight change of pace. We'll have a great breakfast at our accommodation before heading off to visit the famous Mackenzie Falls - a short walk down to these stunning perennial falls is a must experience for anyone visiting the central Grampians. Afterwards, we'll drop into a local artist studio and meet some of the makers of the region before visiting a local olive grove for a tour and a fantastic platter of local produce. Lastly, we'll head back to our accommodation for a final farewell and departure.
Who is this program for?
Our Luxe programs are designed for those who love to hike and explore and don't mind putting the miles in during the day and then prefer the comforts of returning to boutique accommodation for the evening. Hot showers, crisp linen, outstanding catering – all the adventure with a little more "luxe". Each day, you'll only need to carry a few small items for the day such as water, a snack, and a rain jacket.
If you would prefer to camp out in our hiker camps, or if you're more conscious of the budget than comfort, check out our Expeditions.

Departures and private groups

Do you have a group? Don't see a departure date that suits? Contact us to discuss a custom or private departure.
Inclusions:
All required transport.
3 nights accommodation in private small group accommodation.
All meals: healthy track snacks, local fare, and fresh in-house dinners, complemented by local wines & produce.
3-course dinner in Halls Gap.
Safety equipment, including first aid kits and satellite phones.
Small groups – a maximum of 10 walkers.
The company of experienced, award-winning local guides.
Exclusions:
Drinks while dining out in Halls Gap.
Any personal purchases at wineries, galleries etc that we visit.
Personal clothing and equipment.
Personal medical and evacuation/ambulance insurance.